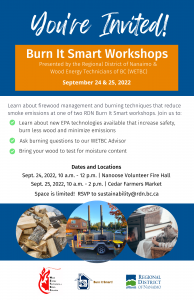 To help residents reduce smoke emissions and increase their heating efficiency this fall, we are hosting a Burn It Smart Workshop in partnership with Wood Energy Technicians of British Columbia (WETBC). There will be two woodstoves on display to show the difference between the operation and emissions and how new technologies improve efficiency and use less wood for the same amount of heat. A WETBC Technician will be teaching the workshop and will be available to answer questions.
The workshop will be held on Saturday September 24, 2022 from 10 am to 12 pm at the Nanoose Volunteer Fire Hall. We are asking residents to please RSVP to sustainability@rdn.bc.ca.
We will also be at the Cedar Farmer's Market on Sunday September 25 from 10 am to 2 pm for drop in demonstrations and questions.
More information can be found on our website: https://www.rdn.bc.ca/burn-it-smart-campaign-begins.